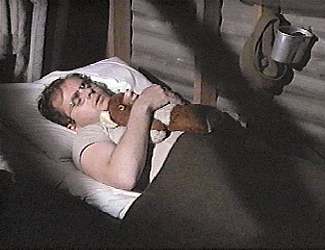 Radar had his faithful teddy bear for more than 7 years, but his bear never had a name. We first saw the bear in "I Hate a Mystery," episode 10. While searching the camp for some stolen articles, Colonel Blake uncovered Radar's bunk and found the bear there. In "Officer of the Day" Radar told Hawkeye that the bear was a gift from his brother. In "War of Nerves" Radar was worried about the fact he still sleeps with the bear; Sidney tells him he'll probably give up the bear when he goes home.
Sidney's theory proved true when Radar left the bear on Hawkeye's bunk in "Goodbye Radar, Part II." Hawkeye put the teddy bear in the time capsule in "As Time Goes By," episode 250. It was to stand for all those who came over to Korea as boys and returned home as men.
I've heard the original teddy bear used for the show was found on Stage 9 where M*A*S*H was filmed. However for some reason they used a different bear in "As Time Goes By."
Since Radar's teddy bear was never given a name, I thought it might be fun to come up with some interesting names for him. If you have a good name for his bear, submit it along with your name below. Feel free to submit several names; however, either separate them by commas or come back to this page to submit again (the name has to be 50 letters or less). I will post a list of the names I receive here. I will not add the name if it already appears on the list.

Name for Bear - Name of Submitter
#1 Bear - Jane smith
#2 bear (radar is #1) - GRAHAM ANDREW BRYSON
4077 - Brenda Anderson
4077th - Laurel & Monty (Gua & Hawk)
5 O'Clock Charlie - Jo
A1 - Kelvin Adams
aabear - "top of the list MA"
Abbi - Jami
Abiner Smoothie Esq. - Jami
Abyssinia - Krista
Ace - Jennifer
Admiral Fletcher - Jami
Admiral McBearson - Kernel Igor Straminsky
Adorable O'Reilly - Alesha Dawn
Adrianna - Jami
Aesha (asia) - Jessica
Agador - Frinky
Agnes - Tomika
Agustus - Sasha
Ah Bach - Lisa Motto
Akbar - Matt Fitch
Alan - Kirsten
Albert - Chrissy
Alexander - David Robinson
Algernon - Trine
Alibaba - Mary Rose
Alise - Jami
Aloysius - Kim
Alpha Bravo - Risa Sluder
American Animal - Charles Collins
Amy - Jami
Andy - Andy
Angel - Amanda
Angel Bear Echo - J.R. Henson
Angus - Jami
Animal (cause he loved them) - Ray Lewis
Animostity - Laura
Annabelle - Jami
Anne - Jami
Antenna - Bernadette
Anti-Ferret Face - Amithyst
Archie - cory vinderslev
Armstrong - Jami
Arthur (After the general) - Ilan Goodman
Askit - Amanda .R.
Aston - Nikodemus
AWOL - Carlee Lemmel
B and C (Bravery and Courage) - Fubuki
Babaloo - Sharona
Baba O'Reilly - weedie
Babbet - Aliesha Timms
BabeBadger - Jami
Babs - Raven Kavanaugh
Baby Bear - Tim Carroll
Baby Bear O'Reilly - Ben Franklin Hawk
Baby Noah - Monkie
Baby Radar - anonymous
Baldy - Shannon
Baloo - anonymous
Baltazar - Aanimelx Nemo
Bambi - Sean
Bamse - Kristin
Banana - Jami
Band-Aid - Eric Krausse
Bandage Bear - Eric Krausse
Bandit - Danny H
Barbar - Chairty Fair
Barley - Jami
Barnaby - Lydia
Barney - Emily
Barney Bear - Susanne Altmeyer
Baron Balloon von Burstenburg - Jami
Baron de Beaufort - Jami
Baron Von Deadhead - Jami
Barry Bear - Jessica Barkley
basco - ruffain
Bascomb T. Bear - Jami
B*C*A*B (Best Care Anywhere Bear) - Heather (NF, Canada) I LOVE Radar and Hawkeye! :)
Beachdude - Chaku
Bean - Giblet John
Beany - Abram
The Bear - John
Bear - Gayle Smith
B*E*A*R - Philip L. Garcia
The Bear Formally known as Fluffy - Dylan
A Bear With No Name - Jonathan Clark
Bearabel - Ilan Goodman
Bear-bear - Kelly Doyle
Bear O'Reilly - Swe'ta (I love M*A*S*H!)
Bear-o-War - Laura Grissom
Bearbear - Carolyn (carotwin01@hotmail.com)
Bearclaw - Bearclaw Fosseneuve
Bearheart - Jami
Bearsit N. Thewoods - vuer
Bear with Me - Nancy L.
B*E*A*R*Y Special - Alex
Beau - Jami
BeBe - Jami
Bed Buddy - Linda & Vince
Beddy - Jimmy James
Beezer - Dick
Belle - Jami
Belmont - Jami
Belotchka - Pavel Pavlovich Antipov
Benanda - Ben and Andy
Benjamin Franklin Bear - Dennis R. Lashbrook
Benjamin Franklin O'Reilly - Isaac Forman
Benjamin Jonathan (BJ) (For BJ, Hawkeye and Trap) - Sweet Preserves
Benjamin - Jami
Benny (after Hawkeye(Benjamin)) - Tamara (loves M*A*S*H a lot)
Benson - Anna
Bentley - Jami
Beron - Donavan Dodson
Bess - Jami
Best Bear Anywhere - Brett
The Best of Bears - Sziasztok Emberek
Best Friend - DAB
Bethany - Jami
B.F.P ( because he liked Hawkeye) - Victoria Hunter
Bif - Jami
Big Bear - Matt Wolf
Big Bird (His bear is named Radar) - RJ
Big T - Jami
Billy - Kammie
Billy Bob - Bradly Bob
Billy Ray - Jami
Bimbulo - Jana
Binkey - David Huwaldt
Bino - jennifer vail
Biscuit - Jami
bj - kylie
B.J.'s Goodbye - Aliesha Timms
B.J Pierce - Angela Dunn
Blake - Dave Lister
Blake the Bear - Rob Morris
Blakey - TanyaB
Blessed (in which the patient "Jesus Christ" blesses Radar's bear before leaving the 4077) - Christine Manning
Blinky - Melinda Gostick
Blip (as in a radar blip) - Jennifer Poppe, Wes Wiens
Blue Cloud - Jami
Bluebeary - Jami
Bob - winoe86
Bobby - Bobby Hanzi
Bob the Bear - Doug
Bobo - Christin
Bogie (for Bogart) - Rhy
Bolgardus - Tom
Bolle - Tonje
Bomber - Kayhla
Bongo (after Radar's bunny) - Ashley Keebler
Bonnie Bear - Elizabeth
Bonzo - anonymous
Boo Bear - Kathleen & Andrea
Booboo - tbutler
Boodie - Suzette from Texas
Boogie Woogie Bugle Bear - dankitti
Boomer - Melanie Thiede
Boom Boom Teddy - Rachel Forney
Booney Bear - Becky
Boots (as in Army boots) - Pat
Boovy (cause he's so groovy) - Zen G.
Borders - Jami
Boris the Spider - Sarah
Bosco - Martha
Bosley - Kev T.
Bourque - C.B.
Bours - anonymous
Bowser - Steven
Box-Bear (after Radar's brother) - Yvette
Boxer - Mango
boxy - mad
BoyBear - Yvette
BoysAndMen - Ash
Brad T. Bear - missy
Bradley - Jami
Brak - Kernel Igor Straminsky
Brave Bear - Teresa
Bravo Bear - michael
Bravo Echo Alpha Romeo - Mandi (aliciabernadette@hotmail.com)
Braymore - Colleen
Brent - Frinky
Brewster - Jami
Bria - mary
Bronco - karen slater
Broomie - Tomik
Brother Bear - Honey
Brother's Keeper - inlovewithMASH
Brown Bear - Katie
Brownie - Jana
Brown Nehi - Gayle Smith
Brown O'Reilly - Anders A
Browny Bear - Zack Slayton
Bryn Bear - Susara Kitching
bubbles - Angi
Brummel-The 4077th - Carina Wallner
Brummi - Tanja
Bruno - anonymous
Bryson - Paula
Bubby Bear - Ellie
Bubsy - Mike B.
Bubu - Joey Schuetz
Buckeye (Iowa mascot) - Bill Titus
Budd - andy aaaaanderson
Buddha - Walter
Buddy - Nancy Welsh, Mark Andrews
Buddy Bear - Gayle Smith
Buddy Chocolate - Jami
Buggles - Celia
Bugle - Ray
Bugs (his rabbit's name) - Jason
Bunk (where he was found & left) - Rachel W.
Bunkie Bear - Pete Talley
Bunky - Rudy Kowalczyk
Bunny - Emily B.
Burghoff - Cantrys
Burlington Bear - Denise Clark
Burns - Andy
Buster Bear - Trixie
Buster O'Reilly - margaretwolfe@msn.com
Butch - Al
Butter - Jami
Buttercup - Alyssa B.
Butternut - Jami
Butterscotch - Jami
Buttons - Gina Watts
buzz - heather
Bye Bye Bear ( left on Hawkeye's bunk ) - Alan Holz
Calandra - Jami
Callaghan - Jami
Callico - Daisy
Cameo - Jami
Candy - Jami
capsule - Katie
Captain - Jennifer Anne Meyer
Captain August - Jami
Captain Bear - Titus
Captain Cuttie - Ursula
Captain Tuttle - Frank Booth
Caramel - Jami
C*A*R*E Bear - Christine Manning
Casimer - Jami
Cassidy - Jami
Cassie - Jami
Cease Fire - Dayla
Cecil - Susanne Altmeyer
Chad - Jami
Chadworth - Jami
Champagne - Jami
Chance - Ashley Bradley
Chandler - Sio
Channel - Jami
Charity - Jami
Charles - Jami
Charles Bearchester III - M*A*S*H2 Vietnam, Same people
Charlesington - adam HOLMAN
Charlie (for Major Winchester) - Frank
Charlie Brown Bear - John Anthony
Charlie C. Bear - Lain
Charlton - Jami
Cheeseburger - Kim
Cherie - Jami
Cherise - Jami
Cherry - Jami
Chester - Sarah
Chibi-Kuma-Radar (Cute Little Radar Bear) - Mari & Audrey (Hawk & Trapper)
chiclette - D. Der
Childhood (left in Korea) - nicole
Chips - Jami
Chocolate Puddin' - Jami
Chocolate Chip - Jami
Chop Bear - Ryoko
Chopper - Kathy
Choppers - David Gray
Christopher - C.O.
Chubrick - Andrey Sazhenev (Russia)
Chuckie - Chuck
Chucky, the Little Bear - Jason Simon
Chunkie Bunkie - Jessica
Cindy - Jami
Cinnaboo - Alex
Cinnamon - Jami
"CK" (Comfort in Korea) - Shelley in Minnesota
Clag - Chris
Clara - Jami
Clarabelle - Jami
Clarence - Tylsh & Recheyze Costellize
Clifford - Jami
Clinton - Jami
Cocoa - Jami
Cody T - Jason Black
The Cold Lover - Anni
Coleman - Jami
Colonel - Keith Trivitt
Colonel Blake - Keith Trivitt
Colonel Blakey Bear (after Henry) - Steph
Col. Flagg - Laura
Colonel Potter - Keith Trivitt
Colonel T. Teddy Bear - Amy Burchall and Emily Stone.
Colstine - Emily
Comfort - Marc
Comfortabear - Alice
Comfortably Numb - anonymous
Companion - Jeff
Company Bear - Paul
compass (to go along with radar) - Kristen
Congreve - Jami
Cookie - Jami
Corky - Jami
CORNelius (Iowa?) - Val
Corporal Bear - Petra Vrieler (14) Holland
Corporal Boo-Boo - Brian M.
Corporal Captain - addictedtomash
Corporal Clerk - Ed
Corporel Cuddles - Devin Karas
Corporal Cupcake - Katie
Corporal Dish (Part of Radar) - Jonathan S. Dykes
Corporal Eski - C. Brons
Corporal Knopfauge - Marcus Schmitt
Corporal O'Bear - Kristel Luv'M*A*S*H
Corporal Ottumwa - Cathy
Corpral Radar O'Reilly II - Kaylee Gibbard (2002)
Corporal Radar O'Reilly Jr. - Major M.J.M
Corporal Snafu - Dennis R. Lashbrook
Corporal T. Bear (T=Teddy) - Steve Klein
Corporal Ted E. Bear - Amanda Stewart
Corporal Teddy - Brandon Crawley
Corporal Teddy O'Reilly - Jenn
Corporal Theodore O'Reilly - JJJ
Cosmo - Rae
Courage - Annie
Cowboy - Mike Thomas
Cozy - Trapper Jett
Cranbeary - Jami
Cream - Jami
Cue-Bear(my 1st Bear's Name) - Josh Livingston
Cubby - Terry
Cuddles - Calla
Mr. Cuddle Wuddle - cutie
Cuddly Fluffy - André Eickelmann
Cupcake - Luke
Curly - Tom Sowinski
Curtis E. Bear - Devil_Doll_978
Custard - Jami
Da Bear - Da MASH Fan
Daddy - Karp
Dago_Red - Brandy
Daisy - Jami
Dale - Jami
damonbear - damonndilon
Daniel - Jami
Danny - Jami
Dar - Cameron "Radar" Van Dyke
Darby Bear - Richard Howard
Darrell - Christa
Darren - Jami
Daryl - Chris Bodkin
Deanna - Jami
"Dear Radar" (dear John recordering) - Kathy R
DEW Bear-Distant Early Warning - Rich
Digger - Jami
Doc - jenvail2000
Doc. Bear - Richard Temple
Domino - Jami
Doobie - Jami
Doobug - Mortikie
Doodle - Crystal Whoitcomb
Doppler - Dayla, cameron
Dot - Jami
doug - shannon pittman
Dougal - Richelle Bremner
Dream - Donnie
Dreamer - jenn
Dr.Bear - Devin Karas
Dr. Scrub - Don
Ducan - anonymous
The Duke - Bill S.
Duncan - Jami
Dustin - Jami
Dusty - Matt Anderson
Echo - Mark
Echolocation - Nick
Ed - Anna
Ed II - Ley
Eddie - Adyan, f.b.
Eddiebear - Ed nickerson
Edgar - Lorry Senesi
Edna - Rob
Edward (means Happy Protector) - Pam
Edward O'Reilly - Erich Barta
Eisenhower (I will go to Korea) - MJ
Elaine - Jami
Eleanor - Jami
Eldin - Dana Pulley
Eline - Jami
Elisabeth - Jami
Elise - Jami
Ella - Jami
Elmo - Dean
Embearassing - Chin
Emily - Jami
Emma - Jami
Emmit - Jami
ER - Lois
Erica - Jami
Erin - Peine
ESP - sydney
Estee - Jami
Eugene - Kay
faithful - Jessica Richards
Feathers - Lindee
Felix McBear - Maja K. Hansen
Ferdinand - Jessica
Ferret Face - Brandon Scott and Chuck
Fibsy - Marion
Fifi the Wonder Poodle - Us+
Fitzgerald - Jami
Flagg (affter Col.Flagg) - Maj. Houlihan
Flash - David T. Rozmarin
Flash Gordon - kore bea
Flinky - Derek Cain
Flora - Jami
Fluffy - Jerome
Foresight - Altara
Francine - Jami
Francis - Stephanie Chafer
Frank (in memory of Frank Burns) - Chris Ashby
Frank Burn's Alter Ego - Pvt. Boone
Frankburnseatsworms - anonymous
Franklin - Lauren
Fred - John
Freddy - Jami
Freedom - john zambos
free spirit - prittypat2002
Friedrich - Frank Schmidt
Friend - Jessica Bailey
Friend Bear - Eileen
Friendly - Daniel
Frinkle - Kevin
Frutzy - Tomika
Fubar - Joe Stacey
Furbank "Teddy" Bear - Jami
Furry Uncle Ed - Dee
Futzy McGrummit - matt
Fuzz Buster - Matt McCormick
Fuzzy Bear - Zack
Fuzzy Fubar - Kathleen
Fuzzy Wuzzy - Misty Allen
Gabrielle - Jami
Galeazza Von Boyage - Jami
Gandhi - anonymous
Garfield - Nichols
Garrett - diana
Gary - Tacy
Gary Burghoff's (Little Buddy Bear) - Kathy R
Gelert - Trapper Jett
General - Nancy Welsh
General Comfort - jay
General McArthur - Frank Przyklenk
General O'Reilly - Jennifer
General Radar O' Reilly,Jr. - Rizzo
General Ridgeway - Bob
General Theodore Teddy Bear - Ron I Can't Get Enough M*A*S*H
General T. Bear - Jim Gross
Geneveive - Jami
Gentle Ben - Kimmy in AZ
George - Stephanie Chafer
Gerbil - M.D. O'Reilly
G.I. Bear - Marcus
G.I. Joe - Garry
Gigantor the planet smasher - ender2525
Gilbert - Heather Nagata
Gilligan - anonymous
Ginger - Geff
Ginger Snap - Jami
Glasses - Sonar Mcnally of the 4077th
Goodluck - Devon
Gopher - Peter Laird
Gor Gor - Soahc!
Graham - Jami
Grand Duke Montayne - Jami
Grape Nehi - Dee
Gregory - Louise
Gretchen - Jami
Grimace - Evan
Griz Lee Grey - Jami
Grizzly - Eric Scheffler
Grizzy - Emily
Grover Cleveland Alexander - James
Growley Bear - sinlock@bellsouth.net
Grubbable Chops - Rachel Stolar
Grumps - Jami
Grumpy - Jami
Grunty or Gruntie - Sheila aka ***Brownielocks***
Guardian Angel - mangelski
Gung Ho Bear - Bjorn A.
Gunther - Jami
gutsy - mary L. Harris
Gwen - Jami
H. Bogart Jr. - Kernel Igor Straminsky
The H.E.L.P. Bear - anonymous
HAL - Barth
Hamlet - Kirsten
Hani - Jami
Hannah - Jami
Happy - Cory G.
Harrison - Jami
Harry - Laura
Harry S Bear - ecips
Harvey - Grace from Iowa
Hawk - Keith Trivitt
Hawkbear - Jerod Bowen
Hawkeye - Ryan Popovich, Cliff Knight
Hawkeye II - Dennis R. Lashbrook
Hawkeye Jr. - Megan
Hawkeye B. McIntyre - Alice
Hawkeye Buddy - Megan Overtom
HB - Jami
Heartly - Jami
Heidi - Jami
Henry (after Henry Blake) - Kathleen & Andrea
Henry Bear - Katie Malone
Henry Blake - Brandy Prpich
Henry VIII - Christophe
Henry T. Bear - Cody
Henry O'Bear - Kristel Luv'M*A*S*H
Herbie - Jennifer Prado
Herman - Christopher
Hero - Annie
Hobbes - Saul Meyer
Ho-Jon (in memory of Ho-Jon) - Andy Olsen
Holly - Jami
Holy cow! - Marcin Sobolewski
HomeBear - Nancy Welsh
Home - Julia Morden
Homer - Marc
Home Safely (need I say More) - Barbara
Homesick - irene mila
homesoon - rosie
Homey - Jim Dugan
The Honest Bear - Baronmike
Honey - Christina
Honey Bear - Allison
HoneyBun - Jami
Honeycomb - Jami
Honeylover - Tom
Honeypot - Mango
Hope - FrB
Hoping to Do Better Bear - theboys@mail.usinternet.com
Horse - Lorna
Hot Lips - Lilith
Houlihan - Einar Baggerud
Howard - Colin Young
Howitzer Bear - Dean "Mullet Man" Gill
Hugaboo - Alex
Huggable Radar - Jessica Barkley
Huggy Bear - Jackie Henson
Hugs - Devon
Hunna Bun - Jami
Hunnyhawk - Angela Dunn
Ichaya - Katerino McIver
Ill gotten booty or ill booten got he - Goldberg, Chaplain
Imaginary Friend - Courtney
Incoming - Anni
Immortality - Dave Jalapeno II
Innocence Lost - Greg Seiler
Insanity (for insanity of war) - anonymous
I.C.U. Bear (I see you) - B.J. Davis
I.O.Y. - Yvette
Iowa - Claire J.
Iowa pal - M.O. Hagman
Irny - Donavan Dodson
Isabelle - Jami
Ivy - Jami
iwantogohome - aneesa
Izzy - Jami
Jack - Tom Drozd
Jackson - Jami
Jacky Ben (for Jack Benny) - Kernel Igor Straminski
Jacob - Jami
Jake - Jami
Jambo - Ryan Mason
James - Jimmy James
Jamie Farr - Flippy
Jared - Jami
Jasmine - Jami
Jason - Sarah
Jeff - Jami
Jeffery - Jami
Jeffrie - Scott
Jemima - Jami
Jenny - Jami
Jerry (the ambulance driver) - Erika
Jessi - Jami
Jimmy - Jami
Jimnity - Marcus
Jingles - Jami
Jo - Jami
Jocularity - Snowdog
Joe - Kelly N.
Joey - Jami
John - Eric Smith
John D. Tuttle - Derek H.
John Wayne [his favorite actor] - Laura Kirk
Johnnie o'Reilly (is how I refer 2 all Trapper) - Jessica Kershaw
Johnny - Bert Green
Jojo - Christin
Jolly - Stephanie Chafer
Jonathan - Jami
Jordan - Jami
Joseph - Jami
Joshua - Jami
Joy - Yvette
Julie - Jami
Junior - Hollie Ann Grant
Junior Radar - Melissa
Kalamazoo - anonymous
Kaley - Jami
Kamikaze - James
Kandi Kane - Morgan
Kandy - andy
Kate - Jami
Katelyn - Jami
Keiko - Stephanie Chafer
Kenickie - Katrina
Kelgor - Johan
Kidder (like Kiddo) - Ar
Kielbasa Bear - bimmer
Killer - Greg B.
Kim Che (Korean sauerkraut) - Eric Lieberman
Kim Luck - (must be my KimLucky day)
Klinger - Keith Trivitt
klinger 4 ever - anonymous
Koea "Pronounced co-ee-ah" - Lisa Petruzzi
Korea - Gayle Smith
Korea Bear - Nick Keen
Korean Comfort - Christopher
Korea's Grown Man - Yosefa
Korea's Little Angel - Abbie
Kory - ALP
Kotzeboo - ANgelika
K. P. Today - Bob B.
Kukalaka - Salatrel
Kurppa - Roope Miettinen
Lady Audrey Furwhistle - Jami
Lamb (like the one he saved) - Steffi
Lance - Jennifer
Larry - Dan
Laser - Dušan Hlaváè
Laughter (the best medicine) - Mona
Laura - Jami
Lauren - Bill Harbidge
Left but never fogotten - W.C. Fox
Lennard - John Collins
Lets Go Home - J.G.Campbell
Liberty - Bec
Lt. beary-beary o'reilly - a. hunt
Lt. Col. BEARtrand O'Reilly - Suzie Floozy
Lt. Col. Henry Bear - Pieter
Lieutenant Fuzz - SluggieMKR
Life - Russell
life saver - robert wilson
L.F.(Little Friend) - Tom Sowinski
Lil' Animal - Lynn
Li'l Bear - Jami
Lil' Bit - Christin
Lil' Brown Guy - Justin Sage
Lil' Radar - Mike K
Lil Trapper - Nikki
Lil' Walter - C DE
Lily - Jami
Linus - Wizera
Little Antenna - SANDY
Little Bear - Andi A.
Little Brother - Neil J. Cornacchio
Little Buddy - anonymous
Little Faithful - Anders Gjelstad
Little Friend - Erica
Little General - Kirstin Mackey
Little Guy - Chuck
Little Hawkey - Carina Wallner
Little Henry - Paul Armstrong
Little Hope - Christopher
Little Mac - Rob
Little Radar - Ann
A little Relief - Pirate Pat
Little Teddy - Elvis
Little Twinky - Anders
Little Walter - Joe Bielski
Littler Radar - Thomas
Lone Ranger - anonymous
Looks-like-Mr.Bean`s-Bear - V.Franke
Lou Bear - Kay
Louis - Jami
Louise - Jami
Love - Tabetha
loveable o'bear - erin eveleth
Lovely Lily - Rachel
Lovey - John M
Loyalty - Matt McCormick
Lucky - jason ladouceur
Lucy - Jami
Luddy - scotty
Luke - Alicia Sallas
Lumpy - Clarence
Luniére - Jami
Ma - Cheryl
MacArthur - Jah
Maddy - Ashleigh
Madeline - Jami
Magellan - Jessica
Maggie Mae - Jami
Maggie - Jami
Mahatma (means 'Great Soul') - Chiclet
mailcallbear - sterling
Major Frank Bears - Capt. B. F. Pierce
Major Relief - Dennis R. Lashbrook
Mama Bear - summer
Mamselle Violette de Smoothie - Jami
Manny - Tylsh & Recheyze Costellize
Marconi - anonymous
Margaret - Kirsten
Margie Cutler - sal and fabs
Marie - Jami
Mariel - Carol
Marine (Radar wanted to be one) - Annie
Marmalade - Jami
Martha - Jami
Martin - Jami
Martini - anonymous
Marv - Ashleigh
Marvin - Jami
MASH - Luis
MASHcot (mascot) - Anni
Mash 4077 - Patti B.
M*A*S*H Bear - Robyn
The M*A*S*H Teddy Bear - Jasmine
M*A*S*H's pet - J.J.J.
M*A*S*H*E*R - Scott and Jimmy Campbell
Mashey - Alessandro Antonello
Mashie - Anders Gjelstad
M*A*S*H Potatoes - anonymous
Mason - Jami
Matthew - Jami
Maturity - Charlotte
Maty - Jami
Max (named for Klinger) - Sandy Meyers
Maxwell - Aliesha Timms
Mayday - Arlene_83
McGregor - Jami
McGuinn - Sharona
McGuire - Sharona
McIntyre - helga
McLean - Eric Scheffler
Medi - Rudy Kowalczyk
Medibear - Rudy Kowalczyk
Medi T*E*D*D*Y - Melinda
medical bear - Wytze Terpstra
Medula - Bajker
Meesha (from Czech Misa) - Martina Koneckova
Meirice'a - donavan dodson
Melvin - John Wasalaski
Memories - Tabetha
memory bear - R. E.
Mercy - Bobbie
Merve - Ashleigh
Meska Tuks ("mashka tooks") - Aldona
Micheal - Jami
Mickey Bear - Mike
Mike - Emma
Mildred - Rose
Miles - Jami
Mimi - Jami
Mine - the other one of us
Mini Me - Wizera
Mini Radar - Dee
Minnie - Jami
Miri - Jami
Misha - Nadezhda Utesheva
Mishka - Nikita Sinitsyn
Miss Spiritual Tramp of 1950 - Byron Boneparth
Mister ("M. I'm dead where..") - anonymous
Mistletoe - Jami
Mitzi - Tomika
Miz Mash - d. chapman
'mokey - denny
Molasses - Jami
Molly - Jami
Moment Of Silence - Ashley
Mon Ami - D. Carriker & T. McConnaughey
Montgumery - Oceane
Mortimer - Brian Payne
Morty - Jami
Mother - Art
Mr. Bar - Nicole Carter
Mr. Bea (for Mr. Bear) - Jim
Mr. Bear - bergie@telebyte.com
Mr. Brown - Craig Muldoon
Mr. Buggles - Megan
Mr. Cocoa Puffs - Jami
Mr. cuddles - Stephanie
Mr. Honey - Liz
Mr. Jengles - meghann
Mr. O'Reilly - Assilem
Mr. Snorkels - Bekky & James
Mr. Stuffen - Angela
Mr. Stuffys - Raley
Mr. Ted - Kitty Pierce
Mr. Teddy - anonymous
Mrs. Grosgrain - Jami
Mrs. Hadley - Aaron
Mrs. Radar O'Reilly - Chad
Muffin - LA
Mulbeary - Jami
Mulcahy - Laura
Mulcahy Jr. - anonymous
Mulder - Trina
Murphy - Jami
Mustard Mystic the shaman - Jami
My Bear - annie
My Best Friend - bj
my o'hi-o - Alison
Nana - Jami
Naomi - Jami
Napoleon - Tracy
Natasha - Jami
'Nathan Buckley' - Claire
Nehi (for Radar's drink) - Brian Kowalenko
Nehi Bear - Gayle Smith
Nicholas - Jami
Nicky - Jami
Nina - kaytee
Noah (for Radar, animal lover) - Donna Glynn
Noel's Puff - Jami
Nora - Jami
Nutmeg - Jami
Oatmeal - Jami
Oh Geez! - anonymous
Oh Him - Kelvin Adams
Oh-oh - Greg
Ohkalakatakealeeky - James
Ol' buddy - Freddy B.
'Ol Nose and Guts (4 Klinger) - Amy
Old Faithful - Lois
Ole Brum - Christian
The Omniscient One - J. Michael Feezor
One Eyed Willie - Liz Ott, Megan Howland
Opa - Mark Mathe
O'Reilly - Jennifer Early
O'Reilly Bear - Lee Farris
Oreo - Karen
Orson - Louise, Henk van der Most
Oscar - Hannah
Otto (for Ottumwa, Iowa) - Mike F
Ottumwa - Joe
Ottumwa Bound - Amithyst
Ouijongbou - Mark
Oxy Moran - Brittni
Paco - Antonio Zambrano
Pado - Jami
Paddington - Jami
Pado's Bear Den - Jami
Pado's Pad - Jami
Pain - Johanna Viramontes
Painless - Casey
Pal - D. Carriker & T. McConnaughey
Pandora - Jami
Panic - Johanna Viramontes
Papabear - Babybear
Parker - Jami
parnell - Steve S
Påsan - Anders
patch - jen
Patches - Margaret Alda
Patton - JMS
Peace - Suzy
Peace-B. - Tanja Krapp
Peace Bear - R.Parton
Peaches - Jami
Peanut - Jami
Pearl - Jami
Pedro - Ross Plumberg
Penn - Frinky
Penny - Jami
PEPE Bare - Ali Khan
Peter - Jami
PFC Bob the Bear - Hello
PFC Theodore E. Bear - SuziQ
Phluphpie - Chaos Shadowtalon
Pheobe - Jami
Phred - Jennifer
Piddles - Paul Sorensen
Pierce - Kirsten
Ping - Ryan
Pink Canoe - Coconut
pink panther - ameet powar
P.J.'s - Kassie
Plicky - bob
Poe - Ryan Hoy
Poe Lars - Jami
Pohley - Jami
Pooh - Jami
Pokie - Sebastian Kraus
Pontabee - Rita McAuliffe
Poofy - Rita
Pooh Bear - Devin Karas
Pooka (because a pooka is a guiding spririt) - Lt. Gen. Alainna
Pookey Bear - Lois
Pookie - Lisa Fowler
Pooky - Aamir
Poopy - Jason Black
Pop - Jami
Popcorn - Jami
Popsicle - Jami
Post-Op - boo
Potato - William James Clinton (Not Prez)
potterbear - jen z
Potter - lenny
Prayers - Janet Dee
Preppie - Jami
Pride of 4077 - #1 Amber
Prince Maximillan - Jami
Principessa S'Ursa of Maca Damia - Jami
Prisoner of War - Animal Mother
Private Bare - Dean Martin
Private Buddybear - Nate Lygrisse
Private Charles Bear - anonymous
Private Fuzzy O'Reilly - Valerie Emerson
Private "Homer" T.D. Bear - Martha Shively
Private Parts - christina trosclair
Private Teddy - Chris Depot
Private Teddy O'Reilly - Alex
Protecter Blake - Amber
Pudding - Jami
Puddles - Dawn
Pudgy - Jami
Pumpkin - Jami
Q (named for Radar's replacement) - Tim
Q.T. Pie - Ellie
Quincy - Christa
R.A. Dar bear - Faye
Rabear - Derek Bourgeois
Radar - Suzie
Radar II - Caro
Radar-a little bit of hope - Patty Dennis
Radar Bear - Edwina Merrington
Radar D. Bear - Tina Stopka
Radar Jr. - Christine M. Benjamin
Radar O'Beary - S.Twitchell
Radar O'Reilly 2 - Adrienne Ambush
Radar Roosevelt - Laura Baxter
Radar the cute bear - Eddie Wiese
Radar's Baby - Tatianna
Radar's Buddy - Lee
Radar's Comforter - Eke
Radar's Courage - Rhino Boy
Radar's Dish - big fisch
Radar's Friend - Mr. Hulme
Radar's Idol -his head isn't on to good either! - Caitlin Quantz
Radar's Lifeline - Heidi Hall
Radar's Little Helper - Drew
Radar's Little Buddy - J.Heller
Radar's Mini Me - Heather
Radar's protector - Elana Blumenthal
Radar's Special Friend - Carrie
Radar's sweetie - Stijn
Radar's Teddy - Nick Lamb
Rad - Nick lamb
Raggs - Jami
Rainbow - Karol Mišanko
Ralph - Jenny
Ranger - Rudy Kowalczyk
Ranger Bear - Erick Claytor
"Ranger Rob" - Tammy Doucet
"Ranger Ricky" - Tammy Doucet
Ranger Jr - Eric Scheffler
Raspbeary - Jami
Razz-a-ma-taz - Jami
RB (For Radar's Bear) - gnw4077sc
Really O'Reilly - Tanman
Rebecca - Jami
Redar for (Radar & Red Bear combined) - Aaditi Praveen
Reddy - michael h
Reilly O'Radar - Lieutenant Carter
Remember - Fleur
Reo - anonymous
Rest (for all those who never returned) - Fleur
Rex - Eliza
Rhetta - Jami
Ribbon ( on the bear 's neck) - Kathy R.
Ricky, Radar's Long Lost Bro - Larry
Rigel - Mekayla
RILEY - SOMBRERO_SUE
Riley O'Reilly - Kevin
Rizzo - D.S.
R.J. (Radar Jr.) - Dawn Brown
Robert - Jami
Rocky - Curtis Fast
Roger - anonymous
ROK (Rep. of Korea) - TI
Roland - "Millra"
Rolly - Jami
Ronald - Emily
Roo Boy Bear - Barb Alderman
Roosevelt - Cindy
Roosveldt - Mike Moller
Rosa - Jami
Rose - Jami
Rose-a-lynd - Jami
Rosealee - Jami
Rosebearie - Jami
Rosebeary - Jami
Rosie - Zarina
Ruby - Jami
Rudi - Alexandra
Rüffel - Gecko-Loopy
Ruggles - Jami
The Rugrat - Anders
Ruldolph - Ricky Tresize
Russell - Jami
Rusty - D. Carriker & T. McConnaughey
Rykter ( the last letter of the main char. name from first season) - Jamie
Safety Bear - Gayle Smith
Saint - Mike D.
Salty - Millies
Sam the Teddy Bear - Rachel Forney
Samson Bear - Chrissy
Sarah - Jami
sassy - Victoria
Satchmo - anonymous
Satellite (Radar = Satellite, both find things) - Kenny
Scalpel - Ashley Keebler
Scardeebear - Ashley
Schmu - Wren Nightwind
Scott - Hollie
Scoup - Rebecca Wenning
Screen (Radar, Screen) get it? - P. B. Harrison
Scruffy - Kati Clinton
Scub - anonymous
scuba (why not?) - josie
Scuffy Bear - JTTFAN1187
Seaton - Jami
Sebastian - Dean
Security - Boo
Seoul Companion - Eric Rodriguez
Seoul Soul - JR
Sergeant Radar O'Bear - Eddie Wiese
Sgt. T. Bear - Sara Kennedy
Shaggy - Anthony
Shamus - Ann
Shazam - From Captain Marvel - Bob Powers, St. John's, Nfld
Shelburne - Jami
sherbert - Mark Nimoy
Sherm - Keith Trivitt
Sherman - Lisa Fowler
Sherwood - Jami
Shirley - Christine
Shmengi - Sharona
Shnookums - Maribeth
Shoey - Mike Shoesmith
Short One - Mire
Short Timer - Brandi Maxwell
Shorty - Julia Sherbonovich
Shrapnel - Heather Holmans
Sidekick - M*A*S*H*A
Sidney (for Dr. Freedman) - David K.
Siegfried - Christa
Sigmund - Frickett
Simon - elie atiie
Sincerity - Russ Friday
Sir Colonel - Jennie
Sir Ted E. Bear - Schwester S.
S.K.(as in South Korea) - Jenna
Skipper - Dan Kalfas
Slake - ECK
Sleutel 13 - Freya
Sleeptite - Jack
Sleepy - A. Sulo
Smokey - Buddy Vaughan
Smuggly - Jana
SNAFU T. Bear - Chrissie Hill
Sneaker - Holle
Snicker-Doodle - Jami
Snookums - Lois
Snowden (from "Catch 22") - Dale Kesterson
snuffles - Kristen
SnuggleBear - Carlos A. Cook
Snuggles - Heather Nagata
Snuggly - Allen M.
softy - ashley
Soggy - John M
Solace - Ray
Soldier - Nancy Welsh
Solong Farewell Amen - Aliesha Timms
Son - ann
Sonar - Doug
Sophie - Mindy
The Soul of Seoul - JBob
Spam - anonymous
Spanky - Jami
Sparky - Paul
Sparky HQ - Baronmike
SPC O'Reilly - La Belle Soldat
Spear Chucker - Mike
Spectacles (after his glasses) - James
Spinney - MWS
Spirit of America - anonymous
sprinkles(everyone likes them) - shayna
Spudly - vuer
Spuds - Alan Holz
Spunky - Ann-Marie Savoy
The Stage 9 Bear - A fan
Starlina - anonymous
Star of M*A*S*H - Sachin Agarwal
Stephen - Jami
Sterling - Jami
Stevenson - Corporal V.
Stinky - anonymous
Stitches - BJMusick
Stowaway - Major Houlihan
Strawbeary - Jami
Stuart - Jami
Stuffins - Wayne Biszick
Stuffy - spud
Stupid (like the war was) - Aliesha Timms
Substitute - Yvette
Sugar Bear - Mike
Sugarbugga - Alex
Sundae - Jhade
Superman(after hawk,his idol) - val
Surgeon - Lynn
Swamp Ted - Katherine
Swamp Thing - Jordan Soyer
Sweetie - Lilith
sweetness - Eric Krausse
Sydney - Alex
Sym (Symbol of ...) - Melissa
T. bear - Jami
Tabitha - Jami
Taffy - Jami
Tarzan - Michael Dodds
Tasha - Jami
Tatters - Dj Morse
Tattoo - Bill S.
Taylor Bear - Sammy
T.B (Teddy bear) - Swe'ta (I love M*A*S*H...& Hawkeye)!
t.c.(time capsule) - janenne
Ted - Jordana, JM
Tedball - Erin Wyld
Ted E. Bear - Dean, Dale, S.Twitchell
Teddles - Pieter Wiid
Teddy - Albert, Peter
T*E*D*D*Y - Bryan Brasher
Teddy B. - Susan McGrew
teddy bear - liz Adametz
Teddy Bear Trooper - Jennifer R.
Teddy Bearsvelt - Angela F.
Teddy Bingo - A.M.
Teddy Elmo O'Reilly - Alicia Maddux
Teddy "Fluff" Bear - Laura Prado de Assis
Teddy Hawk - Katie
Teddy McIntyre - Kelly (I love MASH!!)
Teddy O´Furr - Joakim Friberg
Teddy O'Reilly - Valeta
Teddy O'Reilly Jr. - Hawkeye200018
Teddy the Wonder Bear - Vishakha
Teddy the Wonder Lizard - Anni
Teds - Debbie Quinlan
Telegraph - anonymous
Telepath Ted - Altara
Teller - Tylsh & Recheyze Costellize
Tempo - Laura
Tenderheart Bear - Rebekah
Terminator - Lubos Elexa
Terry - David K.
Tess - Jami
Thanks - Bekky & James
Theo - Jami
Theodore - Crystal and Amida
Theodore T.Bear (T.=Teddy) - M.B.Lopez
Theodore Von Bear - Luckster
Thorndyke - Jami
Three-Star O'Reilly - Rena
Tibearius II - Jami
Tiddly-Wink - Tazy
Tiger (Two Burghoff autographs signed this way.) - Corporal Captain
Tiger Lilly - Mindy
Timeless (from the capsule) - Taun Regguj
Timmy - amazingrace@uswest.net
Timothy (since his brother Timmy gave it to him) - Debb E.
Tinckle - Matt Anderson
Tinker - Jami
T.J. - Scot
Toffee - Jami
Tookie - Myna
Toppie - anonymous
Tory - Erin
Tracker - Lazlow
Trapper - Viper
Trapper B. Hawk - Aliesha Timms
Trapper Bear - Dennis R. Lashbrook
Trapper John - Erica
Trauma - Alice
Trauma Teddy - Diva Fi-ver***
Travis - Jami
Triage - H. Thomas Jester
Trickles - Aimee-lou. Trapper and Hawkeye are FIT!
Trompe - jaid
Trooper - Missy
Truce - Meg
true blue - dave
Trueman - janenne
Truman - Jamey Saperstein
Truffles - Jami
Truman - Bill Stafford
Trusty - Tonya Moore
Tuffy - Edd & Billie
Tuggie Bear - Elaine
Tummy (from Atumwa) - Ilan Goodman
Turbo Teddy - Majbritt
Tuttle - Chad Mathews
Tyler - Jami
Uijongbu (4077's camp site) - Babs, The M*A*S*H Addict!
U jean bear (after Radar) - Kathy R.
Unbearable - brian
UN's Bear Envoy - Crazy Chris
Uncle Ed - anonymous
Uncle Ed Jr. - anonymous
Uncle Eddie O'Reilly - Unknown
The Unnamed Bear - Kevin
Ursa Major - Clayton Hardiman
U.S.A. - Suzy
Victor - Jami
Victoria - Jami
Viejo - Rebecca Wenning
Virgil - c.m.e.
Virgin - anonymous
VictoryBear - Nicole Perryman
Wadar - Jordan
Colonel Waffles - Scott and Megan
Waggle II - Mick
Wait For It - Doug Cotton
Wallace - erin
Wally - Katrina
Walter - Buddha, Lisa Fowler
Walter D. Bear - Tina Stopka
Walter Eugene - nate
Walter Junior - Roni Carroll
Walter O'Bear - Valerie Canaday
Walter O'Reilly II - Cameron
War Bear - Anne
War Killer - Graham Andrew Bryson
Warren Peace - Ilan Goodman
watcher - Kenneth Habeck
Watson - Jami
Wayne (for John Wayne. Radar seemed to like him.) - A Fan
Wendy - Jami
WEOR (Walter Eugene O'Reilly) - Jeff Abram
Wesley - minnie
Weyland - David K.
Whitaker - Jami
Whitey - Jami
"Whooa" Airborne - Coralisa
wilbur - Neal
Wilhemina - Jami
Will - Jami
William - Jami
Willoughby - Jami
Winky O'Reilly - Michael R
Winnie-of-My - Ildi
winnie the pooh - april
Winston - Jami
Wireless - Giblet John
Witchcraft - Jami
Wolfie - Jami
Wolly - Adele Carne who luvs Mash
Wonder Bear - Meadow Soprano
Woobie - Meredith Huffman
Woolly - Jami
The Worlds Greatest - *~Angiekins~*
Wuggles - Trudy
Wuzzy - Jami
The X-bear - Golanit Elazar
Xavier - Aliesha Timms
Xerxes Walter - Mo
Yogi - Ponga
Youth - Amanda
Yvette - Jami
Zaldamo - Mark C. "Bro!" Lowe
Zebulon - Tookibird
Zol - Sharona
Zoltar, King of the Gypsies - LoriJeanie
Zsa Zsa - Jami
Zurcon - Kermit
zyzax - M*A*S*H FAN