Loretta Swit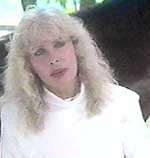 Born November 4, 1937 in Passaic, NJ
Loretta Swit's acclaimed career has been as rich and varied as the changes in Margaret Houlihan, the character she portrayed in Twentieth Television's classic series, M*A*S*H. She is not only an accomplished actress, but also a talented singer and dancer.
As M*A*S*H continued over its eleven year run, "Hot Lips" Houlihan became Margaret Houlihan, evolving from a tough, by-the-book Army major to a more compassionate head nurse. Along with Alan Alda, Jamie Farr and William Christopher, Swit stayed with the successful series for its duration. For her role on M*A*S*H, Swit won two Emmy Awards for Best Supporting Actress in a Comedy Series.
Swit began her career with the National Touring Company of Any Wednesday, making her stage debut with Gardner McKay. She then went on to appear in the Florida Road company version of The Odd Couple, later recreating her role as one of the Pigeon sisters in the Los Angeles version that starred Ernest Borgnine and Don Rickles. Other stage credits include: Mame, The Apple Tree, I Do, I Do and, on Broadway, Same Time, Next Year. Her stint on Broadway's The Mystery of Edwin Drood attests to Swit's versatility as an actress.
On television, Swit has guest starred on many series since her arrival in Hollywood in 1969. She was featured on Mannix, Gunsmoke, Hawaii Five-O, Mission: Impossible, and other dramatic series. Swit has done her share of dancing and singing on popular variety shows including The Perry Como Special and The Bob Hope Christmas Show.
Swit has also starred in well regarded telefilms such as: The Execution, Miracle at Moreaux, Friendships, Secrets and Lies, Games Mother Never Taught You, Cagney and Lacey, First Affair, The Best Christmas Pageant Ever, The Kid From Nowhere, Mirror, Mirror, Valentine, The Love Tapes, The Hostage Heart, Coffeville, and Shirts and Skins.
In her first feature film, Stand Up and Be Counted, Swit earned raves from Los Angeles critic Charles Champlin. She has continued to garner critical acclaim throughout her film career, appearing in Freebie and the Bean, Race With the Devil, S.O.B., Beer, and Whoops Apocalypse.
Swit became the first cast member of M*A*S*H to actually visit Korea when she narrated the documentary, Korea, the Forgotten War for Arnold Shapiro. She returned for a pre-Olympic television variety special with Julio Iglesias.
To complement her two Emmy awards, Swit has won three People's Choice Awards, the Genii Award from the Organization of Women in Radio and Television and the Silver Satellite Award from American Women in Radio and Television in Canada. Swit was awarded with a star on Hollywood's prestigious "Walk of Fame."
Among Swit's most important honors are those reflecting her efforts to prevent the slaughter of fur-bearing animals for high-fashion clothing. These include acknowledgements from the American Humane Society. She was named Woman of the Year by the Animal Protection Institute of America. She also teamed with Robert Redford for a PBS special centering on animal species threatened with extinction.
While relaxing from her many duties both on and off stage and screen, Swit watercolors sketches and plays tennis. She also has a strong interest in languages and yoga. Her passion for needlepoint was reflected in her book, Needlepoint Scrapbook. This multi-talented actress also wrote and illustrated a children's book.
Swit has designed here own line of jewelry which she has sold at jewelry shows across the United States in recent years. Loretta toured the United States and Canada performing the play "Shirley Valentine" in 1998. In June 1999, she was a hostess for the Miss Wyoming Pageant.
Awards:
Emmy for Outstanding Supporting Actress in a Comedy or Variety or Music Series (1980)
Emmy for Outstanding Supporting Actress in a Comedy Series (1981-82)
Pictures

Home

Filmography