David Ogden Stiers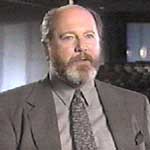 Born October 31, 1942 in Peoria, IL
David Ogden Stiers, who played Maj. Charles Emerson Winchester III in Twentieth Television's M*A*S*H, started his career with the Very Little Theater, one of the few self-sustaining, non-funded community theaters in America.
Just two years out of high school, Stiers was offered $200 for three months work as a member of the California Shakespeare Festival in Santa Clara. He stayed until 1969, playing such roles as King Lear, Polonius and Richard III. He appeared in The Mikado, The Royal Hunt of the Sun, The Caucasian Chalk Circle, An Enemy of the People, Man's a Man and Marat/Sade.
Following his stint in California, Stiers was accepted at Juilliard, where he studied drama. part of his education included voice training, both speech and singing. While still at Juilliard, the dramatic baritone narrated and conducted portions of Saint-Seans' The Carnival of Animals at Lincoln Center's Alice Tully Hall. He also played the Devil in Stravinsky's L'Histoir du Soldat.
Stiers' stage credits includes stints with the San Francisco Actor's Workshop, the Committee Revue and American Hurrah Theatre. On Broadway, Stiers created Feldman the Magnificent in The Magic Show.
He appeared in Ulysses in Nighttown and starred with John Houseman's City Center Acting Company in Three Sisters, Beggar's Opera, Measure for Measure and Scapino.
Stiers has performed in major roles with the Old Globe Theatre Festival in San Diego, appearing in Measure for Measure, Much Ado About Nothing, The Tempest, King Lear, Henry IV, Part II, The Rivals, and the title role in Billy Bishop Goes to War. In 1984, he directed the Globe's award-winning production of Scapino with Harry Groener.
On film, Stiers debuted in Drive, He Said, and has since landed roles in The Cheap Detective, Oh, God, Magic, Harry's War, Creator, Better Off Dead, and The Accidental Tourist, among others.
For his work on M*A*S*H as the pompous Maj. Winchester, Stiers received two Emmy nominations. Other television performances include The First Modern Olympics, The Innocents Abroad, Father Damien, North and South (both parts), A Circle of Children, The Day the Bubble Burst, The Bad Seed, Mrs. Delafield Wants to Marry, Hoover and several Perry Mason telefilms.
When taking time off from a busy work schedule, Stiers enjoys listening to classical music. Currently, he is an assistant conductor for the Newport Symphony Orchestra in Newport, OR. He has conducted other orchestras in the past, including ones in Boston. He also admits being addicted to The Goon Show, a British radio comedy that ran from 1950 to 1960. His voice can be heard all over - from Disney movies such as Beauty and the Beast and Pocahontas to video games such as Uru: Ages Beyond Myst and documentaries such as PBS's New York: A Documentary Film. He has also had roles in a number of TV sitcoms and dramas.
Pictures

Home

Filmography