McLean Stevenson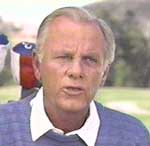 Born November 14,1929 in Normal, IL. Died February 15, 1996
McLean Stevenson did not follow his cousin Adlai Stevenson II into the family "business." After servingas press secretary during both of Adlai's Democratic Presidential campaigns, McLean started his successful career as an actor.
The Bloomington, Illinois native graduated from Nothwestern without knowing exactly what he wanted to do. Stevenson became an assistant director of athletics at Northwester, sold medical supplies and insurance. Following his stint as Adlai's press secretary, he took his cousin's advice to look into a show business career.
Stevenson's teachers include the well-respected Lee Strasberg, Sandy Meisner, David Craig, Lehman Engel and Sue Seaton.
In Warsaw, Indiana, Stevenson appeared regularly in summer stock productions before making the jump to the New York stage and television commercials. He collected many credits both as a performer and as a writer, with his talents being utilized in various revues at New York's Upstairs at the Downstairs nightclub. On Broadway, Stevenson performed in Bye Bye Birdie and I'll Always Remember Miss What's Her Name.
Before co-starring in M*A*S*H as Lt. Col. Henry Blake, Stevenson was a regular on both The Doris Day Show and The Tim Conway Comedy Hour. The role of Henry Blake, however, catapulted him to stardom. His performance on Twentieth Television's hit comedy series was widely hailed. During three years on the series, Stevenson collected three Emmy nominations for his work as an actor. In 1974, he also garnered an Emmy nomination for writing a M*A*S*H episode entitled The Trial of Henry Blake.
Stevenson left M*A*S*H after three years to pursue other options. Stevenson has appeared on many series, movies of the week, game and talk shows. After leaving M*A*S*H, he starred in such series as Celebrity Challenge of the Sexes, Condo, Hello, Larry, In the Beginning, Dirty Dancing (the series spinoff from the movie), and The McLean Stevenson Show, in addition to many appearances on The Tonight Show Starring Johnny Carson. He died of a heart attack on February 15, 1996, leaving behind a wife, Ginny, and a daughter, Lindsey.
Pictures

Home

Filmography