Wayne Rogers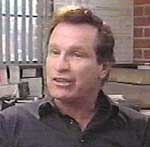 Born April 7, 1933 in Birmingham, AL
Wayne Rogers's second tour of duty in the military -- as Trapper John on Twentieth Television's classic series M*A*S*H -- was far more successful than his first.
After graduating from Princeton University as a history major in 1954, the Birmingham, Alabama native joined the Navy. He was a navigator aboard the U.S.S. Denebola, a converted Liberty ship, when he first thought of giving up the sea for acting.
The ship was in drydock at Redhook, Brooklyn when Rogers visited a director friend at the rehearsal of his play. The sailor was hooked, and after nearly three years in the Navy, Rogers resigned his commission and joined New York's Neighborhood Playhouse. During the next two years he studied acting with Sandy Meisner, and dancing with Martha Graham.
Off-Broadway assignments provided Rogers with a variety of roles, including parts in One More Day, Bibi Finstermaker and Chaparral, with Gene Hackman and Rip Torn. When he obtained a regular role in the daily serial Edge of Night, Rogers gained both fame and fortune.
In Chicago, he starred on stage in Teahouse of the August Moon and Bus Stop. Rogers has been in roadshow productions of Under the Yum-Yum Tree, No Time for Sergeants and Misalliance.
Visiting Los Angeles one summer, Rogers landed a co-starring role opposite William Bendix in the Stagecoach West series. His debut on the silver screen was in Robert Wise's Odds Against Tomorrow. Rogers tells the story that Wise originally turned him down because he did not like the actor's photograph. Thanks to a persistent agent, Rogers was allowed to read. Wise's response to the audition: "You've got the part but I still don't like your picture."
Rogers's film career has been extensive, and includes such pictures as Cool Hand Luke, Chamber of Horrors, W.U.S.A., Pocket Money and French Kiss. In 1980, he garnered critical praise for his leading role in Once in Paris.
The busy actor appeared in many TV series, including Playhouse 90, Camera Three, Lamp Unto My Feet, Lancer, Barnaby Jones, Merv Griffin, F.B.I. and Cannon. After leaving M*A*S*H, Rogers again played a doctor in CBS's House Calls.
Rogers starred in a number of telefilms, such as The Girl Who Spelled Freedom, He's Fired, She's Hired, Lady From Yesterday, I Dream of Jeannie, 15 Years Later, and Miracle Landing.
Rogers left M*A*S*H because he felt his part was getting smaller. In The Complete Book of M*A*S*H, Rogers discussed how he wanted a chance to explore the character of Trapper more in the show. He left after the third season because he felt that Trapper wasn't developing at all in the scripts.
Not only is Rogers well-respected as an actor, but also as a businessman. His interests have ranged from managing business affairs of actors such as Peter Falk and James Caan to building condos; from raising thouroughbreds to running a vineyard.
Rogers has had many investments, including Kleinfeld, a bridal store chain in the New York City area, and Swifty Serve Corp., a large convenience store chain. He can sometimes be seen on Fox News Channel as a financial expert.
When not in front of the camera or running his empire, Rogers plays basketball and tennis, and reads voraciously. The Hollywood scene holds little interest for Wayne Rogers, who said, "Somebody once told me I shouldn't try to change Hollywood. That isn't my point at all. I don't want Hollywood to change me."
Pictures

Home

Filmography