Mike Farrell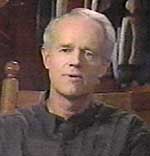 Born February 6, 1939 in St. Paul, MN
Mike Farrell, who co-starred as B.J. on Twentieth Television's hit comedy M*A*S*H, has become one of Hollywood's most outspoken political activists.
Farrell has narrated a documentary for the United Farm Workers about the dangers of pesticides. He co-hosted the show Saving the Wildlife, with fellow M*A*S*H alum Loretta Swit, and hosted The Best of the National Geographic Specials.
Although he literally grew up around motion picture studios, where his late father worked as a carpenter, Farrell's own career in entertainment did not start until after high school. It was only after a two-year hitch in the Marine Corps that Farrell began to study dramatic arts seriously, attending classes at Los Angeles City College and UCLA.
Farrell was born on February 6 in St. Paul Minnesota, one of four children who were brought to Los Angeles at an early age when his father started working at the studios.
Farrell appeared in the Los Angeles stage production of Rain at the Civic Playhouse. He starred with the Laguna Beach Playhouse in A Thousand Clowns, Mary, Mary, Under the Yum-Yum Tree and The Skin of Our Teeth.
Before M*A*S*H, Farrell had roles in two previous series, The Interns, with Broderick Crawford, and The Man and the City, with Anthony Quinn. He has also guest-starred on Mannix, The Bold Ones, Marcus Welby, M.D., Owen Marshall and Harry O.
Farrell has a long list of telefilms to his credit. He starred in Sex and the Single Parent, with Susan St. James, Prime Suspect, Memorial Day, which he co-produced, Choices of the Heart, Private Sessions, A Deadly Silence and Vanishing Act, with Margot Kidder and Elliott Gould. He also directed Run Till You Fall for CBS. One of his favorite projects was JFK - A One Man Show, produced for PBS.
On film, Farrell has appeared in The Graduate, The Americanization of Emily and Targets. He produced Dominick and Eugene in 1987. He is currently involved in the movie production company, Family Motion Pictures.
Farrell, who is married to actress Shelley Fabares, has two children from a previous marriage. Beginning in 1999, Farrell has played veterinarian Dr. James Hansen in Providence. He is also still very active in human rights issues, especially those regarding the death penalty.
Pictures

Home

Filmography