Gary Rich Burghoff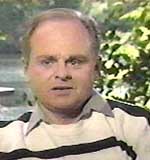 Born May 24, 1943 in Bristol, CT
Gary Burghoff was the only actor in Twentieth Century Fox's hit film M*A*S*H who was asked to reprise his character for the extremely successful television series. Burghoff's performance as the naive, but omniscient Radar O'Reilly was rewarded with an Emmy as Best Supporting Actor in a Comedy Series in 1977.
Although Burghoff was unable to attend the Emmy ceremony, the presenter was M*A*S*H star Alan Alda, who said he was glad Burghoff could not appear because "it gives me an opportunity to tell the world what a wonderful, gifted and outstanding person Gary Burghoff is -- something he, of course, would not say about himself."
When bringing his character to the TV series, Burghoff said he had to "re-create the Radar character because he wasn't fully developed in the feature." It was Gary's idea to give "Radar" a real first name. He went to Writer/creative executive Larry Gelbart asking to give the character a first name and suggested "Walter" after a childhood friend Gary knew who never understood a joke made at someone else's expense. Gelbart also based several of Radar's qualities upon those of Burghoff such as his love for nature. When visiting the Burghoff home in Malibu, Gelbart saw the wildlife sanctuary which Gary and his then wife Janet maintained in their backyard. Inspired by it, Gelbart created Radar's zoo in the series. His sanctuary is how Gary became known as the "Birdman of Malibu."
Burghoff's acting career started during his high school days when he appeared as Bobby in The Boy Friend. After graduation, he headed to New York to study with Sandy Meisner, James Tuttle and Charles Nelson Reilly.
At New York night clubs such as the Duplex and Nag's Head Inn, Burghoff honed his singing talents. He performed at New Haven's Long Wharf Theatre as Og in Finian's Rainbow and as Eugene in Look Homeward, Angel at the Music Theatre in Rochester, N.H. He also had roles in Bells are Ringing and The Sound of Music on stage.
Other performances on stage include Play It Again, Sam, You're a Good Man, Charlie Brown, The Owl and the Pussycat, Whose Life Is It Anyway? and The Nerd.
After making his TV debut in Repertoire Workshop, Burghoff has been in such television programs as Twigs, The Love Boat, The Kids on the Block, Tales of the Unexpected, Fantasy Island and The Donna Fargo Show. Burghoff has also appeared on a host of game shows and talk shows, including Dinah, Mike Douglas Show, Match Game, and Hollywood Squares.
Burghoff left M*A*S*H shortly after the start of its eighth season. He wanted to spend more time with his family and in an interview in The Complete Book of M*A*S*H he discusses how he suffered from burnout. However, he did return for two episodes of AfterMASH, reprising his still popular role as Radar; he also did a pilot for W*A*L*T*E*R in which his character becomes a police officer.
On the silver screen, Burghoff had roles in B.S. I Love You and Small Kill. He also had a role in the TV movie The Man in the Santa Claus Suit, starring Fred Astaire.
Burghoff's talent is not limited to acting. He has written more than 100 songs and has been a three-time winner of the ASCAP Award for Excellence. He created his own All-Star Dixieland Jazz Band, which recorded an album and toured some of the nation's jazz clubs. His album was called Just For Fun released on the Shalom record label soon after his departure from M*A*S*H.
Gary and his first wife, Janet Gayle, had one daughter, Gena, 24. Gena is an actress in Los Angeles; she co-starred in Behind the Waterfall in 1995 with Gary. Married in 1971, Gary and Janet divorced in 1979. Gary has two boys, Jordan and Miles, with his second wife, Elisabeth. Elisabeth is a dental assistant for the developmentally disabled. They have a summer cabin in Connecticut and live in California with their two boys and pets including a cat named Connecticat, angelfish, and a dog named Sarah.
Since 1992 Gary has been painting wildlife and has toured art galleries across the United States to display his art. He continues to remain active in the theater. Between September 3, 1999 and May 14, 2000 he was part of an acting group which toured 120 theaters in the United States and Canada performing Neil Simon's Last of the Red Hot Lovers. In May 1999 he began hosting a public television series called Pets: Part of the Family. The show focuses on the relationship between people and their animal companions.
Awards:
Emmy for Outstanding Continuing Performance by a Supporting Actor in a Comedy Series (1977)
ASCAP Award for Excellence (1965)
ASCAP Award for Excellence (1966)
ASCAP Award for Excellence (1967)
Gary Burghoff Site
Pictures

Home

Filmography